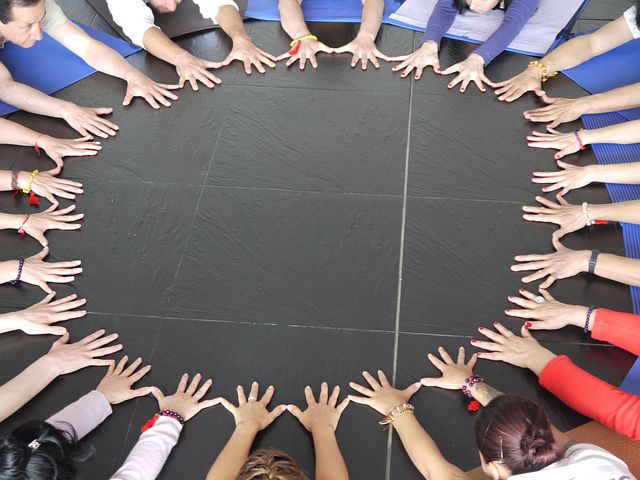 You've been thinking about this.
You've been putting it off.
You're not sure if it's for you.
If you're looking for an amazing journey, one that will make you feel knowledgeable and confident to teach Yoga, or maybe something to deepen your own personal practice & knowledge, then this is the program for you!
Here's our promise: We'll meet you where you're at. We offer you the opportunity to acknowledge the power within yourself. As you explore the Yogic lifestyle of mind-body health you'll learn to cultivate inner peace and self acceptance. Yoga is so much more than just the physical practice. You'll gain an understanding of movement and breath as you learn about life-changing breathing and mindfulness techniques – a calmer way to manage every aspect of your life. 
Yoga makes people happier and healthier so you'll help to make the world a better place. We'll help you find your voice and gain the self confidence in your ability to lead a Yoga class. The training is about creating new authentic friendships, deepening your spiritual knowledge, and sharing your knowledge and passion with others. 
Learn how to teach Yoga, not just how to do Yoga.
Become an Registered Yoga Teacher (RYT) at the 200 hour level with our Yoga Alliance Teacher Training Program!
10 weekends total – September through April
Saturdays & Sundays 9-5:30
Cost is $2490*
The training is a well rounded mix of Yoga postures and routines, Yoga philosophy, breathing techniques, relaxation techniques, meditation training, anatomy as it pertains to Yoga, and Sanskrit mantras. Our 200 hour Sharing Yoga Teacher Training program is held at Sharing Yoga in downtown Concord, New Hampshire.
Our Yoga Teacher Training Program offers the following features:
You will be attending and graduating from a Yoga Alliance Registered Yoga School.
Yoga Alliance standards are a measure of professional education and experience in the yoga teaching community.
Yoga Alliance is a globally-recognized symbol of standards-based knowledge in the field of yoga. Registered yoga teachers represent professionalism.
The upsurge in the popularity of yoga and the demand for yoga teachers has emphasized the need for competent, safe instruction and rigorous standards for professional training. Yoga Alliance promotes and maintains standards for training and practice has become a benchmark for distinguishing knowledgeable and well-trained practitioners. The U.S. Department of Labor describes yoga teaching as a rapidly expanding occupation that currently relies on Yoga Alliance standards as a measure of professional education and ability.
You will receive knowledgeable instruction and training focusing on competent, safe instruction and rigorous standards.
You will benefit from being in a small group where individualized attention is the key to learning.
You will learn how to share Yoga safely with folks of all ages and abilities.
We've been training Yoga teachers since 2006 and we adhere to a higher standard.
Studio owners will feel confident hiring you knowing that your training meets Yoga Alliance's standards and students can trust that they receive instruction from a qualified and well-trained teacher. 
Additional Benefits and Features
Learn how to teach Yoga, not just how to "do" Yoga.
Learn Yoga postures, breathing, meditation, mantra, relaxation, and Yoga philosophy.
Learn alignment and sequencing.
Combine ancient teachings with modern techniques.
Our program is a 200 hour Yoga Teacher Training and meets all the requirements and is registered with Yoga Alliance.
There is a small self study component to the program (required for certification.)
Even if you do not want to teach Yoga the program is a great way to deepen your knowledge of Yoga techniques, philosophy, and lifestyle.
This is not a program where you learn wicked hard Yoga postures. You learn about Yoga and how to teach Yoga.
We will teach you how to open your own Yoga business or studio and market it.
If you are concerned about not being flexible, strong enough, etc., do not worry. Yoga is not about flexibility. It is about the breath and the mind.
We offer a supportive, SAFE, comfortable environment.
*Payment plans available.
Meet Our Teacher Training Faculty