Become an Registered Yoga Teacher (RYT 200) with our  Yoga Alliance Teacher Training Program!
Learn how to teach Yoga, not just how to "do" Yoga
Next sessions starts: January 2021
Price: $2490 (10 payments of $249) or $1800 if paid in full by 11/27/2020
Dates: Jan 23-24, Feb 13-14, Mar 6-7, Mar 27-28, April 17-18, May 15-16, Jun 12-13, Jul 10 (Sat. only), Aug 7 (Sat. only), Sept 11-12, Oct 2-3, Oct 23-24
Times: Saturday & Sunday from 9:00 – 5:00
Program features:
Graduate from a Yoga Alliance Registered Yoga School

Yoga Alliance standards are a measure of professional education and experience in the yoga teaching community
Yoga Alliance is a globally-recognized symbol of standards-based knowledge in the field of yoga
Knowledgeable instruction and training focusing on competent, safe instruction and rigorous standards
Small group where individualized attention is the key to learning
Learn how to share Yoga safely with folks of all ages and abilities
We've been training Yoga teachers since 2006
Studio owners will feel confident hiring you knowing that your training meets Yoga Alliance's standards and students can trust that they receive instruction from a qualified and well-trained teacher
Who Teaches Our 200 hour Teacher Training Program?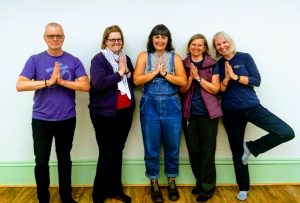 Wendy Bonner, RYT 500: Wendy has been practicing yoga for more than 15 years and has experienced many of its healing benefits. She is continually seeking to deepen her own practice and share her experience with others. She has completed the Sharing Yoga 500-hour teacher training program and the Shakti Flow Yoga 200-hour teacher training. In 2013, Wendy received additional training in teaching trauma-sensitive yoga through the Trauma Center at Justice Resource Institute in Brookline, Massachusetts. In 2017, she became a Certified Mantra Teacher in the lineage of Namadeva Acharya (Thomas Ashley-Farrand) through The Yoga Space in Keene. Wendy is grateful for all her teachers, for all their teachers, for all her students, and for the wisdom each has shared with her. Yoga and mantra meditation practices have changed Wendy's life dramatically. She hopes that her students, through their own experiences with these techniques, can find self-acceptance, healing and peace.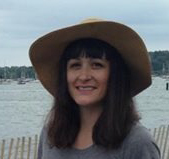 Alison Murphy, RYT 200: Alison Murphy is a 200-hour Registered Yoga Teacher.  She completed her training at Sharing Yoga in May of 2014.  Her interest in yoga is because of its unique ability to help individuals look inward to calm the mind and at the same time strengthen the body physically through the postures.  Alison teaches classes around Concord to all ages and abilities. Alison also runs Concord Handmade, a mobile shop and holiday pop-up shop, and lives in Concord with her family.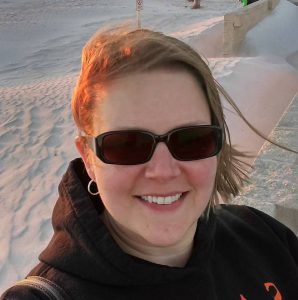 Cory Curran, RYT 200: My passion to work with people as they move along their path has led me to two different professions: Social Worker by day, Yoga Teacher by evening.  Yoga can be a powerful tool in dealing with stress, affecting our mood, and healing the mind and body.  I find much overlap in my work.
I am a Licensed Independent Clinical Social Worker (LICSW) and have spent my 15+ year career working with adolescents and those around them.  I have also completed my 200-hour yoga teacher training, with over a 150 hours of additional training.  I have had the honor of teaching yoga, first with friends and coworkers, and then professionally, since 2009 with people of all ages. I enjoy helping folks along and bring a light, no-stress attitude to my practice.  People enjoy my sense of humor, willingness to laugh at myself, and flexibility.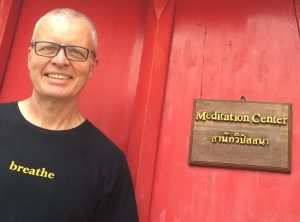 David Breen, E-RYT 500: David is known for his inspiring classes, his sense of humor, and his dedication to the ancient teachings of Yoga. David has been teaching yoga since 2002.  For years he volunteered his time at the New Hampshire State Prison for Men and the Payson Center for Cancer Care in Concord where he offered Yoga and Meditation as tools for spiritual, physical and emotional well-being.  He is an initiate in the Himalayan tradition and feels blessed by the grace of his spiritual mentor Pandit Rajmani Tigunait. David founded and directs Sharing Yoga Community Yoga School, including a Yoga Studio and 2 Yoga Teacher Training Programs in New Hampshire.  Attending one of his classes will always include some specific alignment cues, a great relaxation, and likely some discussion about pizza.  With his love for music you might also find an occasional surprise of harmonium and Sanskrit chanting during relaxation.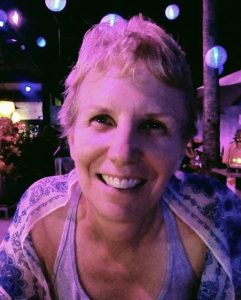 Bhavani Laurie Farmer, E-RYT:
E-RYT200, RYT500, YACEP, LICSW, ACHP-SW, Reiki Level 2 Certified
Laurie has been practicing yoga since 2000 and teaching since 2004. She has completed numerous yoga trainings and certifications, receiving her RYT 200 in 2006 and her RYT 500 in 2012. She is inspired by and grateful to her many teachers. She is graced with the love and light of her Guru, Manorama. Laurie is a licensed clinical social worker who worked in hospice for 17 years. That daily reminder of the beauty of life and the present moment through the interactions with those who are dying and their family members had a significant influence on her. 
Laurie was inspired to travel around the world in 2018 with her husband, David Breen, for a year. A year full of rich learning and exploration with lots of time for introspection and practice. Through that adventure she learned about the true power of the present moment. Learned about humanity and humility. Learned about the value of friendship, family, connection, and support from others. Learned more about herself, about life, about what is needed to be happy. Learned to see and think in different ways. Practicing and feeling what Ram Dass says, "We don't necessarily see things as they are, we see them as we are."  
Laurie teaches classes, workshops, private yoga and meditation sessions, and is part of the teaching faculty for the 200-hour and 300-hour Sharing Yoga Teacher Trainings. She teaches a variety of styles and paces; including flow, gentle, restorative, yin, and chair yoga. She is known for her warm, friendly personality and teaches in a gentle, clear and relaxed manner. Her classes will be sure to include attention to the breath, the present moment, smiling, and encouraging a sense of curiosity. It is her daily practice to live yoga "off the mat" and it is her hope that she encourages students to do this as well.  
Call her Bhavani or call her Laurie…as you wish.  She is looking forward to learning with you!
Additional Benefits and Features
We'll meet you where you're at and offer you the opportunity to tap into the power within yourself. You'll explore the Yogic lifestyle of mind-body health and learn to cultivate inner peace and self acceptance. Yoga is so much more than just the physical practice. You'll gain an understanding of movement and breath and about life-changing breathing and mindfulness techniques – and a calmer way to manage every aspect of your life. 
If you're looking for an amazing journey, this is it – it will make you feel knowledgeable and confident to teach Yoga. Yoga makes people happier and healthier so you'll help to make the world a better place. We'll help you find your voice and gain the self confidence in your ability to lead a Yoga class. The training is about creating new authentic friendships, deepening your spiritual knowledge, and sharing your knowledge and passion with others. 
The training is a well rounded mix of Yoga postures and routines, Yoga philosophy, breathing techniques, relaxation techniques, meditation training, anatomy as it pertains to Yoga, and Sanskrit mantras. 
Learn how to teach Yoga, not just how to "do" Yoga.  Combine ancient teachings with modern techniques. There is a small self study component to the program required for certification. This is not a program where you learn wicked hard Yoga postures. You learn about Yoga and how to teach Yoga. We will teach you how to open your own Yoga business or studio and market it. If you are concerned about not being flexible, strong enough, etc., do not worry. Yoga is not about flexibility. It is about the breath and the mind. We offer a supportive, SAFE, comfortable environment.
Teacher Training Program Frequently Asked Questions
Are books and materials included in the price of the training? Your books are included in the price of the training. You will need to purchase your own journal/notebook for your personal use. How proficient in yoga do you have to be to do the program? You should have some experience with Yoga, but you don't need to be proficient in all the Yoga postures and techniques. Our program focuses on teaching you about Yoga and about yourself, along with how to share Yoga with others. How many students are enrolled in each Teacher Training at one time? What is the typical age range of the participants? There are usually 10-20 participants enrolled in the program at one time. All ages 18 and older are welcome. Do I need to have any other qualifications to be accepted into the program? You need to have a desire to learn more about Yoga and Yoga philosophy. What if I miss a class? If you miss a class or part of weekend training you will need to make arrangements with the program director to make up those hours. There may be additional fees for make up hours. Do you offer scholarships or work-exchange programs? We do not offer scholarships at this time. Occasionally we do have work-exchange programs available to help defray the cost of training. How much time should I expect to spend on homework? Plan to spend around 2 hours per month on outside assignments, papers and presentations. You should also plan on at least an hour per week for the reading assignments. Do you help organize accommodations? Please contact the program director for assistance with finding accommodations. What is the Yoga Alliance? Yoga Alliance® is the national education and support organization for yoga in the United States. They work in the public interest to ensure that there is a thorough understanding of the benefits of yoga, that the teachers of yoga value its history and traditions and that the public can be confident of the quality and consistency of instruction. Yoga Alliance also maintains a Registry of Yoga Schools to recognize yoga teacher training programs that meet our 200-Hour and 500-Hour standards. All graduates of a Registered Yoga School are automatically eligible to register as RYTs. Will I be qualified to teach yoga once I complete the 200-Hour Teacher Training Program? Yes. Our program focuses on Yoga and how to teach Yoga. Upon completion of our course you will have the tools and experience you need to confidently teach a safe and enjoyable Yoga class. What if I want to teach at Sharing Yoga? Talk to the program director to find out more details about teaching at Sharing Yoga. What is your refund policy? If there is any doubt in your mind about your current or future commitment to the program please choose the Payment Plan Option and not the Prepay Discount or Pay in Full option. Once the training begins we do not offer any refunds. Refunds made before the training starts are subject to the deduction of administrative fees and credit card processing fees totaling $200.