---
Registration is required for all of the classes below.
We do not offer any refunds for any missed classes.

Yoga Beyond the Basics 
with Emily

Mondays, 5:30-6:30 pm, 3/4-4/8
6 weeks for $69 (only $49 if you sign up by 2/25)
click here to register or call 603-630-5576
Our Yoga 101 Beyond the Basics continues where Yoga 101 left off – however Yoga 101 is not a prerequisite. If you're looking to eliminate stiffness, stress, or pain then Yoga may help.  It's also great place to start if you're a little familiar with Yoga or have done some at home. The class focuses on proper alignment and how to do the poses safely, the right way. Learn some new poses and review postures you may already know. If you already have some yoga experience under your belt, but would like a refresher feel free to sign up for this class! You'll use blocks, a strap, blankets, and bolsters which are essential in helping us stretch and strengthen our bodies. You'll learn yoga poses and their variations. This class will benefit anyone who wants in-person instruction in a group setting.

With our Tai Chi and Chi Kung classes you can relieve stress and bring your body into balance with energy movements. Clear the body of negative energy. Awaken & become aware of your innate abilities. Experience a healthy existence. Beginners are always welcome. Learn techniques such as the opening and closing, 8 Extraordinary Vessels, Lion & Tiger, Silk Reeling and the 10 Tai Chi Principles. (No makeup or refund for missed classes)
Integrating Grief & Loss with Laurie
Sunday 3/31 1:00-3:00 pm
$20 (only $10 if you sign up by 3/24)


click here to register or call 603-630-5576
Grief is our normal and natural reaction to the loss of something special to us. Grief and stress are stored in our bodies. The intention is not to "get over" our grief, but to begin to process and integrate our grief.
Join us for this workshop where we will explore thoughts, emotions, and behaviors revealed through grief. We will relax in gentle restorative poses, learn effective breathing exercises, and reiki will be provided.
No yoga experience required. Everyone is welcome.
Laurie Farmer, RYT 500, LICSW, ACHP-SW*
Laurie has been practicing yoga for almost 20 years, worked in hospice over 17 years, and has been teaching yoga for over 15 years. She has experience as a grief and bereavement counselor working with people individually, families, and facilitating bereavement groups.  She has presented on topics including grief, loss, stress, and self-care. *Registered Yoga Teacher at the 500-hour level, Licensed Independent Clinical Social Worker, Advanced Certified Hospice & Palliative Social Worker

For everybody – Restorative Yoga is a gentle form of Yoga that focuses on physical and mental relaxation through poses aided by props. You will be placed in various comfortable postures for several minutes and a Reiki practitioner will assist in your relaxation by giving Reiki energy to you while in each posture. Space is limited. (No makeup or refund for missed classes)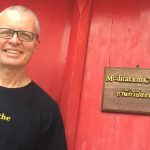 Anatomy Classes – 3/2 from 12-5pm
This workshop is open to everyone. Yoga teachers can earn 5 CEU's (contact hours) for your Yoga Alliance requirements.
Saturday 12-5
Hip Opener Workshop. (anatomy of the hips and how to teach this)
Learn what muscles make up the hip joints and how can we affect them. Don't let these terms scare you: isometric flexion and abduction, oppositional forces, and proprioceptive neuromuscular facilitation. We'll learn the most effective ways to bring flexibility and stability into the hips.
Conditioning Class for the lower back. (anatomy of the back & how to teach this)
This class is specifically adapted for people with lower back pain and offers a safe, effective approach of gentle conditioning, postural alignment and relaxation. Focus on attention for reducing pain and discomfort, while addressing the underlying causes in a natural and healthy way.
Kirtan.
Mantra & music combined for a lively, uplifting finale for this weekend.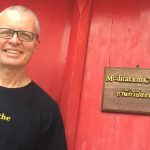 Yoga & Meditation 
with David

Wednesdays, 5:30-6:30 pm, 1/9-2/13
6 weeks for $69
click here to register or call 603-630-5576
For everybody – this Yoga beginner basics offers brand-new beginners and others a safe and supportive environment to learn yoga postures, breathing exercises, meditation and relaxation techniques. This session will provide the student with knowledgeable instruction and posture modifications for different bodies and abilities. (No makeup or refund for missed classes)