Laurie and David offer private Yoga & Meditation classes for individuals, couples or small groups, at our studio or off-site.
New to yoga and want to try it out in a safe, clean & comfortable setting? Then our private classes are for you. Get the special attention you're looking for. We create an experience for your body, mind and spirit and offer you an opportunity to relax, detox, and restore.
Corporate retreat? Get in touch.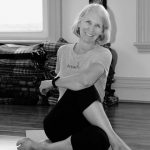 Laurie Farmer, E-RYT 500, YACEP, REIKI LEVEL 2, LICSW, ACHP-SW*
Inspired by and grateful to her many teachers. She is graced with the love and light of her Guru, Manoramā. She has attended numerous workshops over the years with a variety of teachers, which have influenced her practice, teaching, and life. She has been practicing yoga since 2000.
A licensed clinical social worker who worked in hospice for 17 years. That daily reminder of the beauty of life and the present moment through the interactions with those who are dying and their family members had a significant influence on her. In 2018 she was inspired to travel around the world with her husband, David Breen, for a year. A year full of rich learning and exploration with lots of time for introspection and practice. She is always trying to see and think in different ways, practicing and feeling what Ram Dass says, "We don't necessarily see things as they are we see them as we are."
*Registered Yoga Teacher at the 500 hour level, , Licensed Independent Clinical Social Worker, Advanced Certified Hospice & Palliative Social Worker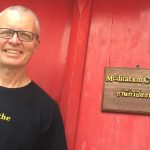 David Breen, E-RYT 500
David has been teaching yoga since 2002. For years he volunteered his time at the New Hampshire State Prison for Men and the Payson Center for Cancer Care in Concord. David founded and directs Sharing Yoga Community Yoga School, including a Yoga Studio and 2 Yoga Teacher Training Programs in New Hampshire.
David has over 15 years of working with private clients. He has a keen knowledge of anatomy and safe alignment, and is experienced at guiding and teaching relaxation techniques and breathing exercises targeted for specific conditions. Those who have experienced his private yoga classes find him skilled at individualized instruction. He is known for his inspiring classes, his sense of humor, and his dedication to the ancient teachings of Yoga.
Sessions with Laurie or David
One 60 minute session in studio $85
One 30 minute session in studio $50
Four 30 minute sessions + personalized take-home video $249
Off-site sessions – contact us
Contact Laurie@sharingyoga.com or David@sharingyoga.com
or call 603-520-8987